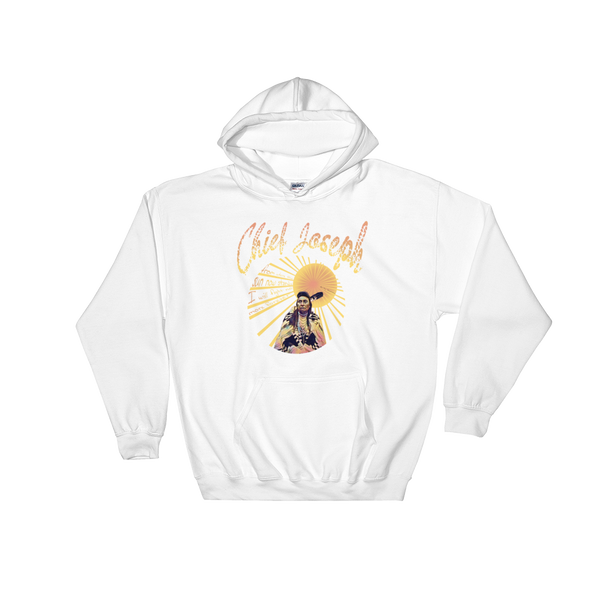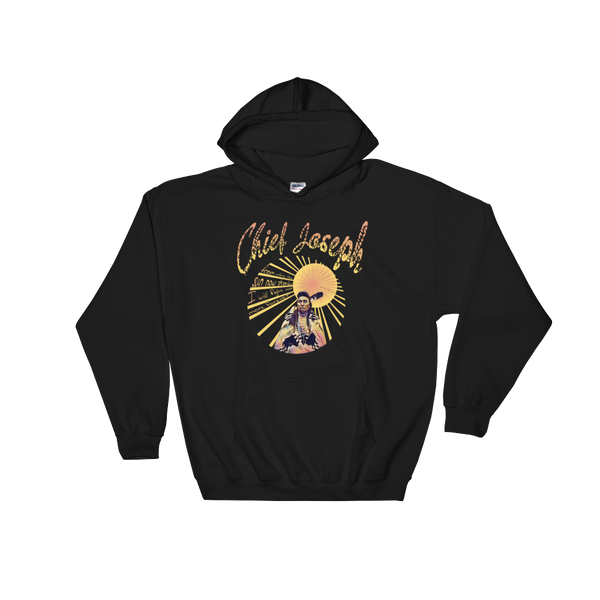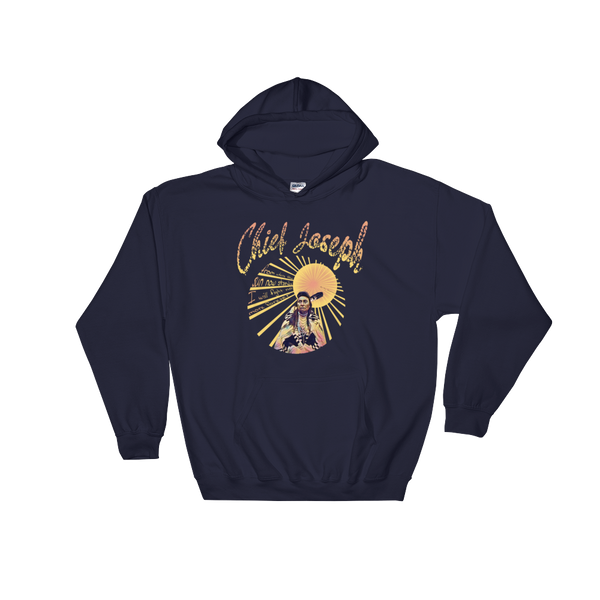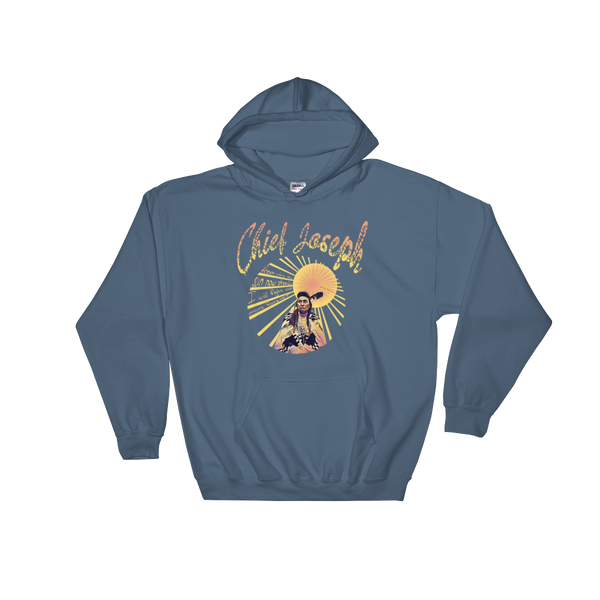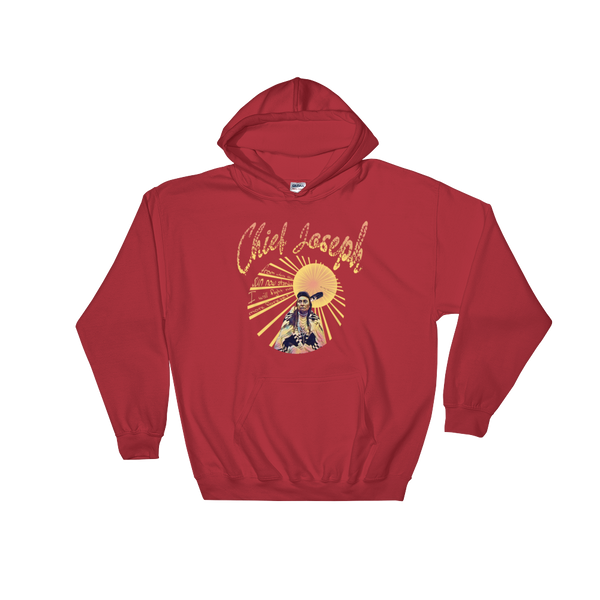 Chief Joseph Sweatshirt
Chief Joseph (Hin-mah-too-yah-lat-kekt)
Chief Joseph (March 3, 1840-Sept 21,1904)
Chief Joseph also known as Young Joseph became Chief the Nez Perce tribe around 1870 when his Father Chief Joseph elder or Old Joseph (Tuekakas) passed away. The Nez Perce were a peaceful people never looking for violence or war. As the settlers arrived, the Nez Perce were kind and Hospitable to them. In 1855 Old Joseph signed the Treaty of Walla Walla establishing a reservation for them of 7,700,000 acres and also protecting the ancestral lands. Old Joseph made Young Joseph swear to protect the treaty and to defend his grave site. Due to the gold rush there was a large increase of settlers moving into their area. Which caused the United States government to come back with a new suggested treaty. This time it was shrink the reservation to 760,000 acres that also did not include Chief Joseph's home land. One of the Nez Perce chiefs signed this treaty, but the others did not. This act divided the tribe into two sections; the treaty and the non-treaty Nez Perce. Old Chief Joseph remained in his home land Wallowa Valley. As more and more settlers moved west the Non-Treaty Nez Perce were harassed. After the death of his father Young Chief Joseph negotiated a Treaty in 1873 that allowed his people to stay on their land. Unfortunately, it was reneged in 1877. Chief Joseph's tribe was told that they had 30 days to relocate to the reservation in Idaho and if they chose to remain it would be an act of war. In order to maintain peace Chief Joseph began to move his people. Although a new treaty was never signed many of the other Nez Perce bands wanted war. One young warrior decided to kill a few settlers to avenge his father. Chief Joseph decided to move his people toward Canada in hopes of joining Sitting Bull. This marked the beginning of the period called the Nez Perce War. The US military pursued around 750 Nez Perce and some Palouse for three months over 1,170 miles. In June of 1877, the Nez Perce fought off two Calvary Armies killing many of their soldiers, while they suffered no casualties only three wounded. Nez Perce got with in 40 miles of the border when they got into a battle. On Oct after a 5 day conflict in the bitter cold the Nez Perce were without food and shelter; Chief Joseph surrendered. He spoke these words on Oct 5th 1877.
"Tell General Howard I know his heart. What he told me before, I have it in my heart. I am tired of fighting. Our Chiefs are killed: Looking Glass is dead, Too Hul Hul sote is dead. The old men are all dead. It is the young me who say yes or no. He who led on the young men is dead. It is cold, and we have no blankets; the little children are freezing to death. My people, some of them, have run away into the hills, and have no blankets, no food. No one knows where they are- perhaps freezing to death. I want to have time to look for my children, to see how many I can find. Maybe I shall find them among the dead. Hear me, my chiefs! I am tired: my heart is sick and sad. From where the sun now stands, I will fight no more forever."
Everyone needs a go-to, cozy sweatshirt to curl up in, so go for one that's soft, smooth, and stylish. It's also perfect for cooler evenings!
• 50% cotton/50% polyester
• Reduced pilling and softer air-jet spun yarn
• Double-lined hood
• 1x1 athletic rib knit cuffs and waistband with spandex
• Double-needle stitching throughout
• Front pouch pocket
Size guide
| | | | | | | | | |
| --- | --- | --- | --- | --- | --- | --- | --- | --- |
|   | S | M | L | XL | 2XL | 3XL | 4XL | 5XL |
| Length (inches) | 26 | 27 | 28 | 29 | 30 | 31 | 32 | 33 |
| Width (inches) | 20 | 22 | 24 | 26 | 28 | 30 | 32 | 34 |